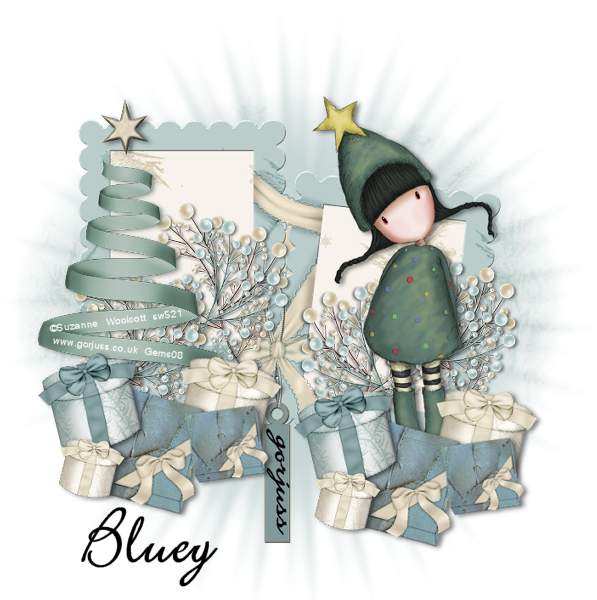 This tutorial
was written by me, Gems, December 13th 2008
Any similarity to any other tutorial is purely coincidental.
My tutorials are registered with Twinc
I am using the wonderful art of Suzanne Woolcott
You need a licence to use Suzannes work, which you can purchase through
this was written in PSPX
and assumes you have a good understanding
Scrapkit from Bluedream Designs HERE
and its called "Snow Blue,"
mask by me-in supplies


Font i use - Joyful Julianna

Supplies



ok off we go!!
Open a new canvas 600 x 600 and flood fill with white
Get paper of choice from the kit,
i used paper3
Copy and paste the paper as a new layer

Open the mask and minimse
Go to Layers-new mask layer-image and find my mask Mask
invert mask is UN-checked
apply mask
go to layers > Merge > Merge Group

you will now have a bottom white layer and one mask layer.


Get paper1 from the kit and paste as a new layer.
now get your frame1 and paste that as a new layer
Use your freehand selection tool to draw around the frame.
make sure the layer with paper1 is active
Selections > invert > delete > select none

Get your branches and re size them to 40% of original
paste all 3 branches onto your canvas.
hi light one of the cream branches on your layer palette
go to image > mirror
add a drop shadow 1-1-50-5.00
Use your pick/deform tool to place the branches in front of one of the frame sides
Hide all layers apart from yur branches
Layers > merge > merge visible > unhide all
keep your branches layer active go to your layer palette and duplicate them
Move your duplicate branches infront of the other frame.
Hide all layers apart from your 2 branches layers
layers > merge > merge visible > un hide all

Get the ribbon tree from your kit
Resize to 65% of original
paste this as a new layer
go to your target brush and choose a colour from your main tube image
have the colour you have chosen as your foreground colour
colour your tree with the target brush
add a drop shadow

Open up the 3 presents from the kit
resize them to 25% of original
now do the same steps with the presents as you did with the branches
get them in place using your pick/deform tool
add a drop shadow 1-1-5.00-50
and when you are happy hide all other layers
layers > merge > merge visible > un hide all layers
duplicate the presents layer and move it over to the other frame
now make the branches layer active
get your main tube and paste that as a new layer
add a drop shadow.
Add any text you want to your tag, or use mine from the supplies.
add your Name and ę info


Save as a PNG & your all done!!



I hope you enjoyed this tutorial and i hope you found it easy to follow?
any problems at all please feel free to shout!!

Hugs Gemsxx

ArtworkęSuzanne Woolcott www.gorjuss.co.uk SW521 Gems08