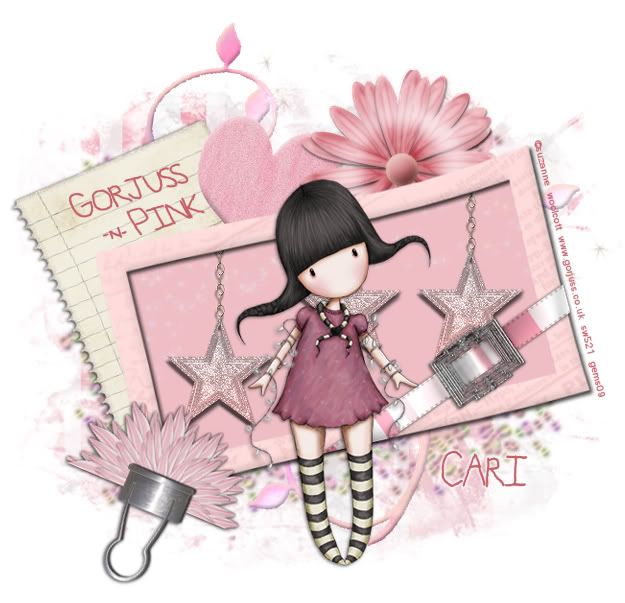 This tutorial
was written by me, Gems, February 10th 2009
Any similarity to any other tutorial is purely coincidental.
My tutorials are registered with Twinc
I am using the wonderful art of Suzanne Woolcott
You need a licence to use Suzannes work, which you can purchase through
this was written in PSPX and assumes you have a good understanding of both
Scrapkit "Cari's Kit" by Me from my Blog- HERE

mask by me-in Supplies

Font i used 2peas Grandpa- any handwriting font will work
ok off we go!!
Open a new canvas 650 x 650 and flood fill with white
Get a paper of choice from the kit, i used paper3 , paste as a new layer

Open my mask and minimise

Go to Layers-new mask layer-image and find my mask
invert mask is UN-checked
apply mask
layers > merge > merge group
get the notepaper from the kit resize to 60%

add as a new layer

go to your tool palette and select your pick /deform tool

and angle the paper to the left slightly

add a small light drop shadow.
Now get the pink frame from the kit and paste this as a new layer,
resize to 85% of original,

use your pick/deform tool to angle the opposite way



now get a paper from the kit (i used paper2)
and paste that as a new layer
and drop it below your paper frame
get your freehand selection tool (the lassoo one)
and trace out the center of the frame

image for eg use and settings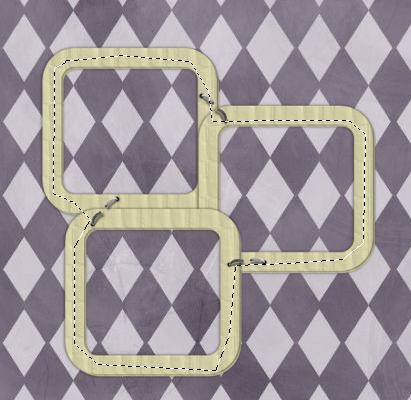 Make sure the paper layer is active
selections > invert > delete.
select none .
Get a flower from the kit and use your pick tool to resize it to your liking,
the same with the felt heart.
n.b. you can always resize by 85% first and finish off with the pick tool.
I got the star dangle from the kit and resized to 50% and duplicated this layer 2 times.
this gave me 3 stars layers.
I added a strong dark drop shadow
1-7-3.00-60

and place them inside the frame and drop them to below the pink frame layer

use the pick tool if you feel you need to resize further.
I used the lassoo tool to crop any showing bits of gold chain.

now get the flower clip and resize by 50% go to image > flip
and then place your flower clip on the frame bottom corner

and place these above the pink frame layer

and to the bottom left.
Get the ribbon buckle and resize to 60%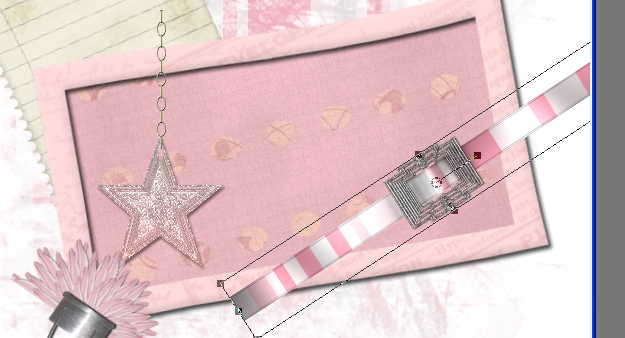 use your pick tool to angle it across the bottom right corner
Now use your lassoo tool to draw around the frame edge
to cut off the excess ribbon over hang.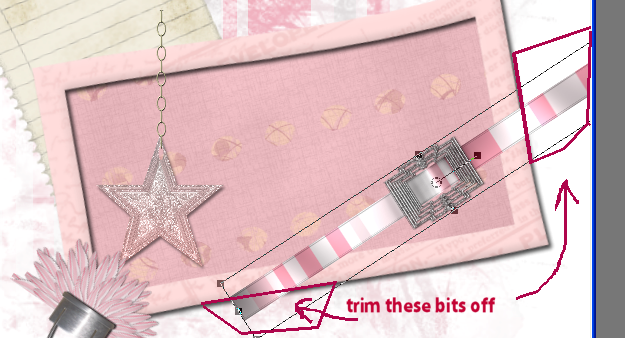 once selected hit delete.
Select none.


Now go to your tool palette
get your lighten/darken tool


use these settings and swipe once or twice holding the left mouse button down
on the edge of the frame to darken




move in from the edge and swipe holding the other mouse button to lighten it.
a bit of practise and this will be second nature, try altering the opacity and see what happens,
this is my fave tool in psp!!

Now make the mask layer active
paste the doodle as a new layer.
Once again resize and place it using your pick tool
Now with the doodle layer active, paste the sparkle frame as a new layer

and again resize and place it using your pick tool.
Add a small drop shadow 1-1-50-4.0

to any elements that need them.

Now get your main tube and paste it as a new layer, resize if needed

add the same drop shadow as before

Add your Name, and your © and licence info

Merge all your layers

use your crop tool to trim off any excess save as jpg or PNG.

There you go your "In the Pink!!"

Hope you enjoyed this lil tut any problems feel free to email me.

Hugs Gemsxx