This tutorial
was written by me, Gems, May 19th 2009
Any similarity to any other tutorial is purely coincidental.
My tutorials are registered with Twinc
I am using the wonderful art of Suzanne Woolcott
You need a licence to use Suzannes work, which you can purchase through
this was written in PSPX & AS
and assumes you have a good understanding of both
Scrapkit by Me included in supplies or from my Blog


mask by by Me - in supplies

SUPPLIES

Plug ins - Eye Candy4-hsb noise
- Muras Copies - Encircle

Font i used - WaterbrushRob


ok off we go!!
Open a new canvas 650 x 650 and flood fill with white

Get paper of choice from the kit,
paste as a new layer,
layers > new mask layer >from image
find my mask > ok
Layers > merge > merge Group
Make sure the new mask layer is active,
go to layer palette and duplicate the mask layer
on the duplicate >image > flip
Hide the white background layer
layers merge > merge visible
un hide the white background.

choose a flower and resize to 35% of original
paste as a new layer
go to effects > Muras copies > encircle >
and apply these settings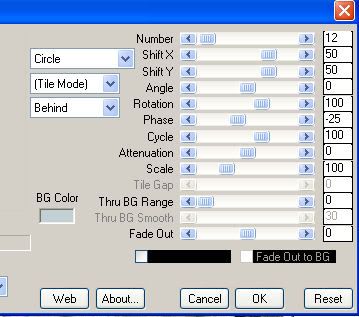 choose another flower and paste as a new layer and resize
apply the same muras encircle settings as above.

Place one circle to the top and left one towards the bottom and right
Paste the gem circle as a new layer resize to 55% of original.
Copy and paste the journal as a new layer
use your pick tool to angle your journal slightly.
Add some text of choice to the journal if you wish.

Add some more flowers and the peacock feathers to finish the look,
i placed mine at the bottom of the journal
i resized a feather to cover the blunt end of my tube also.
Add the paper hearts and check that your layers have a drop shadow
i used i light drop shadow on all my layers 1-1-5.00-50
add the © and your name.
If you dont want to animate your tag
then merge all layers and save,

if you want to animate your tag like mine continue on....

Now for ther animation....
make your gem circle layer active
go to effects > eye candy4 > hsb Noise
and apply these settings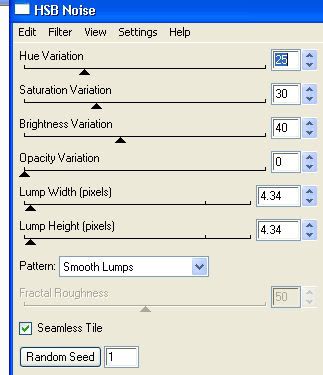 go to edit > copy >copy merged

over to animation shop
Right click in your grey workspace and paste animation

back to psp

go to edit > undo hsb noise.
now go to effects again > eye candy > hsb noise and apply the same settings
but this time hit the random seed button ONCE.
edit > copy > copy merged

over to AS
right click on your tag, paste after current animation

back to psp
go to edit > undo hsb noise.
now go to effects again > eye candy > hsb noise and apply the same settings
and hit the random seed button once again.
edit > copy > copy merged.

over to AS
right click on your tag, paste after current animation
edit > select all
right click on the blue top border of your animation
go to frame properties
change the number in the box from 10 to 20
go to view and view your animation and check that its running ok,
once happy save as a gif!

all done!!

Hope you enjoyed this tut any problems please just give me a shout
Hugs Gemsxx








Artwork©Suzanne Woolcott www.gorjuss.co.uk amideow Gems09