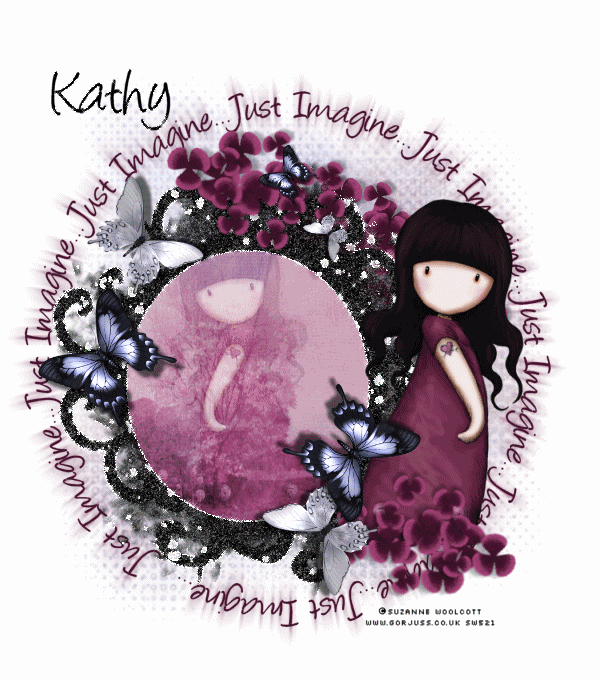 This tutorial
was written by me, Gems, August 23rd 2010
Any similarity to any other tutorial is purely coincidental.
My tutorials are registered with Twinc
I am using the wonderful art of Suzanne Woolcott
You need a licence to use Suzannes work, which you can purchase through
this was written in PSPX & AS
and assumes you have a good understanding of both

Scrapkit-Imagine by me
Mask#203 by me
They can be found on my blog or in supplies

SUPPLIES

Filters:
Xenofex-constellations
Muras meister- Copies

Font i used - Angelina



ok off we go!!
Open a new canvas 650 x 650 and flood fill with white
open my mask and minimise to the system tray

Get paper of choice from the kit, i chose paper14
paste as a new layer
Layers -new mask layer- from image
click on your drop down and find gemsmasks-203
source luminance checked only.
apply the mask,
go to layers-merge-merge group.
Get the round glitter frame
resize to 80% of original
paste it off centre to the left
Use your free hand selection tool and select around the frame
Add a new raster layer
leave selected
Get paper2 and resize to 60%
Paste INTO selection
blend mode to multiply opacity to 75
get a tube and resize if needed.
i resized my image to 80%
pasted as a new layer
Selections-invert-delete
select none
blend mode to overlay, opacity to 65
open up the elements 6&7
resize the flowers from the kit to 11 & 12%
doesnt matter which is which.

open a new canvas 300x300px
paste both resized flowers on as new layers.
add a drop shadow to both.
duplicate one of the flowers
you should now have 3 flowers with shadows in a clustered trio.
♥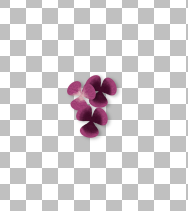 layers merge-merge visible.
go to effects-muras meisters-copies.
apply these settings
♥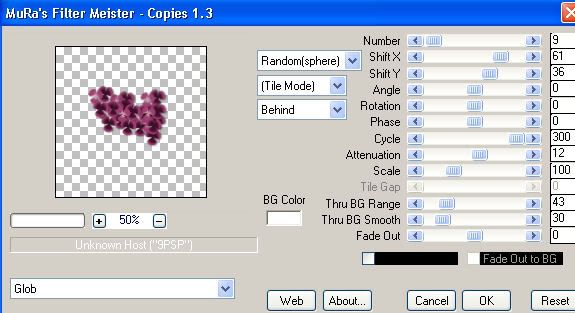 Copy the clustered,muras flowers and paste them onto your main canvas.
duplicate them and drop one of the clusters below the frame and paper.
Paste on your main tube to the right of the frame.
add a drop shadow.
duplicate the clustered flowers again
layers-arrange-bring to the top
place the 3rd cluster of flowers at the bottom of the tube
as it will disguise the flat bottom.
choose 2 butterflies from the kit.
use your pick/deformation tool to resize and place them around the frame.
see my tag for reference.
you can either copy my enclosed text layer,
or you can have a go yourselves :o)

If you want to have a go...
foreground colour set to #301110
background colour set to null
♥


activate the mask layer
draw out an elipse shape
♥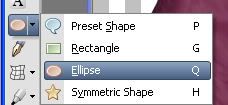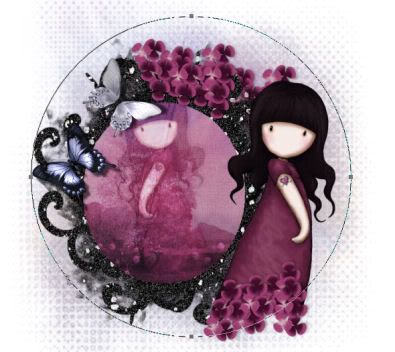 get your text tool have it set to floating
Have your foreground set to null now
and your background set to #301110
place your cursor over the elipse line.
You should see your A turn into an A with a smiley arc beneath it.
Type out the text that you want so that it fills the elipse .
If you cant get the text to fit properly hi-lite the text where you add the text
and alter the size till you get it right.
Apply the text
go to the layer palette and right click on the vector elipse layer.
Delete the vector layer.
On your layer palette right click on the floating text layer-
promote selection to layer
select none.
duplicate the text layer.
On the bottom text layer
go to -adjust blur-radial blur
apply these settings
♥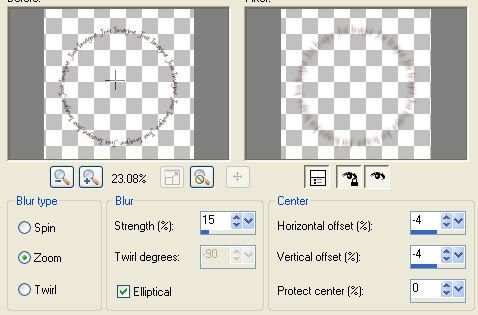 Add your ę and licence info and your name.

If you wish to animate it continue on.

Activate the round glitter frame
go to effects
alien skin xenofex - constellation and use the following settings



edit > copy merged
over into animation shop
paste as a new animation
back to psp
edit undo
effects > xenofex > constellation
this time hit the random seed button once
edit > copy merge
over to AS
click on your tag, paste after current frame
back to psp
edit undo
effects > xenofex > constellation
and hit the random seed button once more
edit > copy merge
over to AS
click on your tag, paste after current frame
in AS go to view and check your animation is running properly
Save!
and your done!!

Hope you enjoyed this tut any problems please just give me a shout
Hugs Gemsxx

ArtworkęSuzanne Woolcott www.gorjuss.co.uk SW521 Gems09